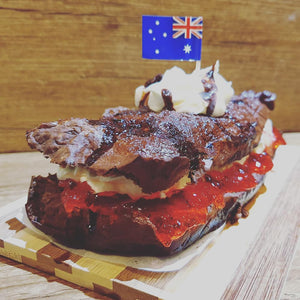 Low Carb Lamingtons - HCG
Lamingtons have become an Aussie Icon - accidentally created in Queensland Lord Lamington, the governor of Queensland in 1901, accidentally dropped a sponge into some melted chocolate. Rather than waste the cake, Lord Lamington suggested she cover it in coconut and the lamington was born! 
While I am conscious about what I eat and I know one lamington may not do much  damage to my health and wellness goals. My imagination, curiosity, skill and drive couldn't be stopped, when it came to creating a healthier low carb version of this Aussie Icon for my followers. 
To say I am totally chuffed by the outcome is an understatement. Hopefully, this dessert will grace some tables on Australia Day and help a few, smash their goals guilt free. 
 The recipe itself is very simple and easy to make. It just involves a few steps. I can guarantee, that its worth 20 minutes of your trouble. 
So lets get you sinking your teeth into this deliciousness. 
Low Carb Lamingtons - Copyright Gourmet Spice Kits- Prep and cook time 20 minutes

Step 1 : Lamington Cake - Copyright Gourmet Spice Kits

Add these ingredients into a whisking bowl.

1 cup apple (woolies brand- available at woollies in tinned section- this is 100% apple and has no sugar in it)

1 cup finely grated zucchini ( don't have to squeeze water out) ( when you choose your zucchini, choose skinny zucchini, the fat ones have too much water content)

120gm vanilla protein powder (mine was sweetened with Stevia) (if using unsweetened Proetin powder add desired amount of natvia for your sweetness)

30gm dutch 100% cocoa (plainstowe or any 100% cocoa)

1 tbsp vanilla essence (those that want a coconut flavour, you can try using a coconut essence. I haven't tried coconut essence)

Pinch of pink himalayan salt

3/4 tsp baking soda

Preheat oven/airfrier to 160C

Whisk above ingredients in a mixing bowl to a smooth consistency. Mixing will break the apple up.

Line a loaf pan/silicon mould with baking paper. Pour into tray and cook 160C for 15 to 17 minutes. I cooked mine in the airfrier. 

Check for wetness with a skewer if still wet cook until cooked. Mine was done in 16 minutes. Once cooked, take out and let cool.

While its cooking prepare Step 2

Step 2 : Jelly filling - 120ml of  cold strawberry tea add natvia to sweeten (ensure slightly sweeter than you would normally like it. Cold infusion tea bags can be found in woolies/coles)

Dissolve 4 gm of gelatin in a little bit of boiling water  Once gelatin is dissolved add to the cold strawberry tea and mix well. Pour jelly mix into to a large dish or mould to set in the fridge. Chop 2 to 3 strawberries into tiny bits and add to the mould to set with the jelly and allow to set.

Note : You don't want a completely hard set jelly, u want to have it wobbly and runny. Like a failed attempt to making a jelly (a jam consistency).

Step 3 : Cream - Prepare just before serving.

Whip your thickened cream just before serving. 
Whip 120ml thickened cream. If you like a sweet cream, add some natvia to it. You can whip additional cream for family or guests. Just ensure you stick to your dairy allownace if on P2/P3. Transfer to a serving bowl once whipped. 

Step 4 : Build your lamington!

Cut into 12  mini squares.( it was messy to cut after I had filled mine. So I suggest you cut yours so you can fill it just before you serve ).

Let guests fill each square with some jelly and cream and enjoy. Or you can fill it for them. I think it will be a bit more fun to let them fill it themselves like a scone. You can provide additional toppings or fruit for them to enjoy. 
Enjoy - Copyright Gourmet Spice Kits


 If you would like to access delicious recipes like this, join our facebook recipe group " Gourmet Spice Kitchen" 
https://www.facebook.com/groups/gourmetspicekitchen/
 Recipe Notes for P2/P3 - Copyright  GourmetSpice Kits 

1. Fruit allowance per slice is 12% of your fruit. If your worried about going over your fruit allownace, just skip quarter of your morning fruit.

2. Account for your dairy allowance.

3. Lamington Protein Allownace. P2- Per square is 25% protein serve (reduce protein at lunch and dinner protein by 12 gm).

4. If it's a choice between cheating or going over your daily allownace, your better off to have 2 squares of this than cheat on P2.

5. Some people do stall on cocoa.
6. If your following Thinco program, modification will be posted in your thinco group for the jelly layer. 
Ingredients used, purchased from Woolworths 
Allrights reserved. Copyright Gourmet Spice Kits 2020
---