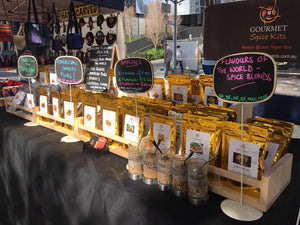 Market Stall Update
Where to find me at Local Markets!
Until Further Notice we will be away from markets due to COVID-19. We hope you are all staying safe during this time. 
We will continue posting orders out, so please order online. 
Our online store is where we live 99.9% of the time.
SHOP NOW  www.gourmetspicekits.com.au
Our online store is open 24/7 for your conveninece. 
Free Domestic Postage over $79.95
Afterpay Available
We Ship Internationally- International rates apply. 
---